It is no secret that I am a master procrastinator.  I have the best of intentions to attack my workload in a timely fashion… and then I end up doing anything BUT what I am supposed to be doing.  It is definitely true for me that the more "tabs" I have open, the less likely I am to finish any of the many tasks I need to accomplish.  The internet can be a huge blessing as an educator, but it can also be a huge distraction.  However, it is not the only distraction we have in our work days.  Email, announcements that interrupt instructional time, supervision, extracurricular duties … sometimes it never seems to end.  Often I wonder when the last time was that I felt truly relaxed and wasn't thinking of the next thing on my To Do list or what to make for supper or if I remembered to change the laundry from the washing machine to the dryer.  The internet or my use of "screen time" isn't the only culprit here.  More often than not, it is simply that I am trying to do too much without properly prioritizing my "need to do" and "want to do" lists.  Kyla Ortman said in her blog this week that "perhaps people are hyper focused on all of 'the things' they need to accomplish while not being present in the moment."  I agree wholeheartedly!
The video "Single-tasking is the New Multitasking" was a humorous take on this idea.  The quote within the video "When workers don't check email, they focus for longer periods on tasks and show less physiological signs of stress" stood out.  This is true for me both at work and at home.  It is one of the reasons I refuse to have my work email available on my smartphone and one of the reasons that I have set aside time in my day to check and respond to emails.  Running a small business as well as being a teacher and a mom/wife means that I have multiple email addresses and To Do lists to stay on top of.  Part of managing this workload is in creating balance.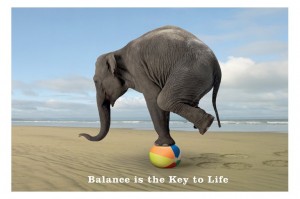 I truly can't imagine what my daily life would look like without access to the internet.  It truly does help me prepare better lessons, with videos to pique my students' interest or an infographic to help explain a concept or a poem to project for the whole class to read without killing more trees by photocopying for each student.  As Kyle Ottenbreit said in his blog this week, "technology is an incredible source of information that serves to capture the attention of our students.  But technology is no substitute for a prepared teacher holding the attention of students.  If we can create that level of engagement with our students, then the technological aspect only puts us over the top."  I think this is so very true.
Can I teach without the internet?  Yes.  But do I have to?  Power or internet outages happen but they don't halt the teaching or learning process in my classroom.  I think this is partly because I am "old school" and love physical copies of books and handouts… but also because I am fully prepared for each class and know my material.  I was not as confident ten years ago when I was first starting my career and often relied on the internet to help me fact check, gather data, research, or connect with my support system of fellow educators.    Though I have never relied on technology to teach my classes, I am very thankful that I have it as a tool in my back pocket!
Gotta run now … it's time to check my email.