Our introductory blog prompt immediately brought to mind the "Hello My Name is" badges that I've had to wear over the years and dredged up those feelings I had (and somewhat still do!) when confronted by those blank little stickers.  GAH!  I'm going to meet a bunch of people I don't know.  Will they judge my writing when I write my name on this sticker?  Will they be able to read my writing?  Will they think I have a weird name?  Will they be able to pronounce my name correctly?  Where do I place the sticker?  Will it peel off?  They don't have my favourite colour marker – now what? What am I doing here?  Will anyone notice if I leave?  How soon until I can go home?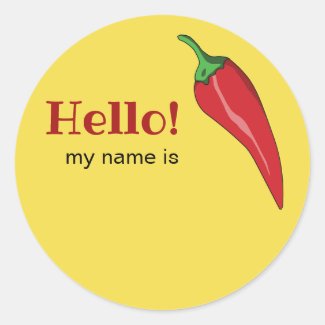 Maybe you can tell from my strong reaction to name tags that I worry about silly things and that my mind usually has a lot of "tabs" open at any given time.  Maybe you can tell I'm a bit of a procrastinator on top of being a perfectionist.  Don't get me wrong – I don't put a lot of stock into what other people think about me.  That's their issue and I try not to let other people's issues affect me.  I do enjoy meeting new people.  I enter new situations with an open mind, wondering what new things I might learn or new people I might get to know, or what a situation or event will be able to teach me.
But I digress.  I'm supposed to tell you a little bit about who I am.  I am a small town girl at heart and grew up in a small village called Colgate south of Weyburn.  I wanted to be a teacher before I even started school.  I corrected my mom's grammar from the age of three and told her when she skipped words when she was reading to me… so she made me read to myself.  School was (and still is!) my happy place.  Grade one literally got me hooked on phonics; I loved those workbooks.  They made so much sense to me.  I began university at 22 with a young daughter, and worked hard to complete my Education degree.  Today I am a wife, mom, teacher, coach, and student so time is always of the essence to me.  I don't like the word "busy" … but I spend quite a few of my waking hours and a few of the supposed-to-be-sleeping hours completing tasks or managing my responsibilities to keep all of the balls that I'm juggling in the air.
I chose to pursue my Master's degree in Curriculum and Instruction because I believe curriculum design is vitally important in our ever-changing educational climate.  Having been involved in the committee that redesigned the SK ELA 21 curriculum, I know the process is lengthy and takes collaboration, dedication, and commitment from those involved.  After curricula development froze a few years ago, we found ourselves having to make decisions within our school and our humanities department about what we needed to include for our students and what was outdated and did not make sense for our students.  This is where my interest in curriculum design began and what got me set on pursuing my Master's.
What lead me to enrolling in this class?  My journey started with choosing a class to take for Winter 2018.  To begin with, I kinda really sucked at technology.  I took a Computers in Ed class in my undergrad degree (from Alec Couros, of course!) and did decently.  But that was many, many moons ago.  Technology has evolved at lightning speed over the last decade or so since I completed my Bachelor's degree.  I was having trouble keeping up.  The students definitely knew more than I did and that was frustrating!  Thankfully I had a great admin team and a fantastic, supportive ELA department who patiently helped me navigate the digital waters.  I wish educational technology came as easily to me as those phonics workbooks of yesteryear did!
That lead to my decision to take a class from Alec – EC& I 832.  Double bonus – I would learn about Digital Citizenship and Media Literacy while NOT having to drive to the city for class!  EC&I 832 was beneficial to me in so many ways.  The learning curve was huge but I hung on and ended up loving the class by the time it wrapped up.  I liked it so much in fact that I knew I wanted to learn more!  I signed up for EC& I 833, which focuses on the Foundations of Educational Technology including History, Theory and Practice.  I was feeling so much more confident with technology that I even signed up for a workshop through the Saskatchewan Professional Development Unit (SPDU) to learn about Embedding Technology in the Secondary ELA classroom.  I had a fabulous fall 2018 semester and learned to embrace technology and what it can do for me and my students.
That leads me to this class – EC&I 834.  Knowing the trends in education and watching the struggles some of my own students are facing, learning about designing blended and online learning environments really intrigues me.  My goals for the class are:
 Learn about creating an online classroom by looking at examples and analyzing how I could most effectively design an environment that would suit my strengths while still being a great learning experience for kids.
 Determine what elements of a traditional classroom could be incorporated in an online environment and try to recreate some of the best components of face-to-face learning in that online environment.
 Research and explore LMS (learning management systems) and determine what would be the most effective LMS for the type of online classroom I'd like to create.
Continue my growth and learning in the realm of educational technology.
Though I know it will be a fair amount of work, I am looking forward to the challenge!